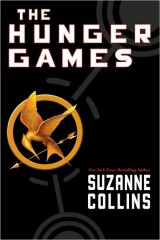 The Hunger Games by Suzanne Collins are available in several sites online in written and audio.
For example, the following site www.onread.com/reader/191136/ is an easy to read offering page by page preview of the book. Alternatively, if you do not have ample time to read the book in one seating, you could download it on www.onread.com/book/The-Hunger-Games-191136/ till such a time when you can read it.
The science fiction novel is also available on audio format on YouTube, www.youtube.com/watch?v=NyDocNrgTQY&feature=player_embed where you can download it onto your iPod and listen while in the traffic or during your spare time.
The novel is also available free books read website. Here, your will be able to read the synopsis, the book itself and also the listen to the audio book version for free.  The following is the free book site where you can find The Hunger Games freebooksread.blogspot.com/2010/05/read-hunger-games-online.
For those who may not know what is being referred to here, you need not worry. The Hunger Games is a science fiction novel whose author, Suzanne Collins, seeks to get the attention of young-adults. The novel is based on a sixteen-year-old, Katniss Everdeen, who hails from North America.
What ma1kes the character unique is that they live in what would be referred to as the 'post-apocalyptic world'.  The North is synonymous of a powerful government that recruits a male and female representative from each district to fight to the death. The purpose of this is to demonstrate that no one, including the young, is immune to the powerful government.
The book is inspired by the sufferings that are portrayed in media, the Iraq war and the extent at which people go when competing in reality shows. The two factors combined coupled with her father's service during the Vietnam War is the inspiration behind the book.
With approximately 200,000 initial prints, the book is available in 26 different languages and a total of 38 countries have the right to the book. It is a book that has been received well with the likes of Stephen King lamenting that the novel is 'the first in a trilogy'.