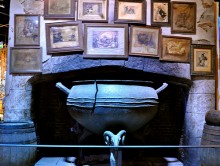 If you're not familiar with the stories, it's definitely advisable to read the
Harry Potter
books in the correct order of sequence. However, if you've seen the film series and know roughly what the story's about, I dont think it would hurt to read them individually, as the movies do tend to stay true to the books.
What Order Should I Read the Harry Potter Books In?
-
Harry Potter and the Philosopher's Stone
(
Sorcerer's Stone
in the U.S.)
-
Harry Potter and the Chamber of Secrets
-
Harry Potter and the Prisoner of Azkaban
-
Harry Potter and the Goblet of Fire
-
Harry Potter and the Order of the Phoenix
-
Harry Potter and the Half-Blood Prince
-
Harry Potter and the Deathly Hallows
What are the Practical Advantages of Reading the Books in Order?
In the earlier books, J.K. Rowling usually begins the first chapter with a brief recap, reminding the reader what happened in the previous book. For example, in
Harry Potter and the Chamber of Secrets
, Rowling helps to jog the reader's memory by stating that Ron Weasley and Hermione Granger, who are both introduced in the previous book, are Harry's best friends.
However, as the plot becomes more complex and more characters are added in the later books, there's less recapping, meaning that you'll need to have read the previous books in order to fully understand the storyline.
Also, some characters may not be re-introduced. For example, the character Mrs. Norris is a cat, and this is only explained in earlier books, meaning that if you read the later books first, you could easily mistake Mrs. Norris for a person and not an animal.
Will Reading the Books in Order Affect my Enjoyment of the Series?
Short answer - yes! Here's why:
-
Characters
. Books are always more enjoyable if the characters are well-developed. If you read the books in order, you'll feel as if you know the characters better, therefore you'll care more about what happens to them. This will definitely make the reading experience more enjoyable.
-
Spoilers
. If you read one of the books at random and enjoy it, you might later decide to read the series from the beginning. You don't want to spoil the ending for yourself!
-
Quirky details.
Little things make the world come alive: The Chocolate Frog cards, the talking portraits, the secret passages and the different spells...all these things are what make Hogwarts seem so vivid and magical. The good thing about reading in order is that you learn all these things just as Harry does; you're newcomers to the wizarding world together.