You can download a manual for the Euro-pro sewing machine model 9130H from this user on Scribd.com.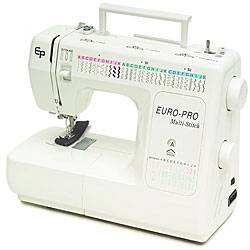 The download includes the full 75 page document in either PDF or TXT document format, which you can save on your computer and print if you want. Everything you need to know about the Euro-pro 9130H and similar models is found in this book.
Once you're familiar with the basics, it's easy to get comfortable with your 9130H. As with anything else, it just takes a lot of practice and wilfulness to master using this model.
Tips for using your Euro-pro 9130H
The key is really to practice, practice, practice! I like to keep up with monthly "sewing challenges" with other crafters online. 
There are loads of sites that offer inspiration, and you can even join a virtual community of stitchers that will support you along the way. 
Popular go-to site to check out are The Monthly Stitch and Sew Mama Sew. Pay them a visit and I'm sure they will be helpful to you.