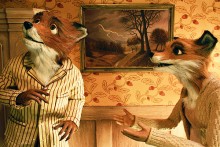 Roald Dahl was a British novelist, short-story writer and screenwriter, best known for his children's stories, many of which were later made into popular films (including
The Fantastic Mr. Fox
, as pictured).
Children's Books
Roald Dahl wrote seventeen children's books and three children's poetry collections, the most famous being
Matilda
(1988),
James and the Giant Peach
(1961),
The BFG
(1982),
The Witches
(1983) and
Charlie and the Chocolate Factory
(1964). His children's stories are told from the perspective of the child, and often feature a 'bad' adult figure who hates children. The protagonists are usually brave, honest, 'good' children.
Adult Fiction and Screenplays
Roald Dahl wrote two novels aimed at adults:
Sometime Never: A Fable for Supermen
(1948) and
My Uncle Oswald
(1979). He also wrote nineteen short story collections that were published between 1946 and 2006 (some after his death).
Dahl also worked on the screenplays for two Ian Fleming novels: The 1968 musical film
Chitty Chitty Bang Bang
and
You Only Live Twice
, (the James Bond movie released in 1967).