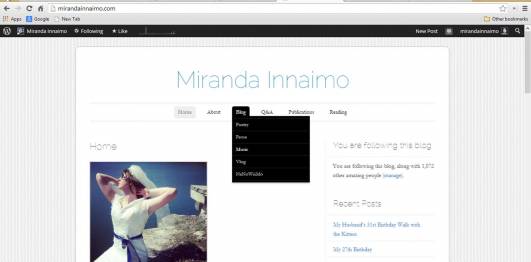 WORDPRESS
I use wordpress to run my website mirandainnaimo.com
From there, I maintain an audience of readers who follow my blog (poetry, prose, music, vlog, and NaNoWriMo).
TWITTER
I am able to find and follow my readers, tweeting to them of my recent publications, blog posts, and random ideas and pictures of inspiration. Follow @MirandaInnaimo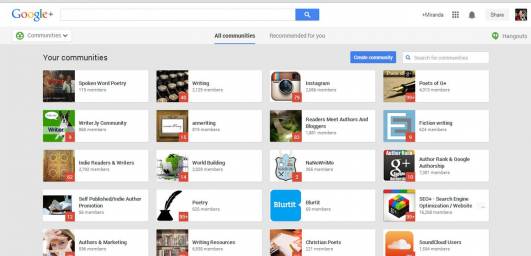 Google+ Communities
Sure, yes, Goolge+ was a little tricky at first, but I found that once I joined some very interest specific communities, I quickly navigated my way through the system. I am able to interact with other writers, gain insight and information, and build a rapport with fellow beings in the same boat as myself.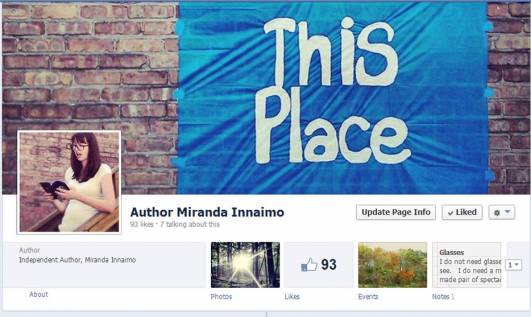 Facebook Page
With some of my favorite analytics, the Facebook Page gives me much insight about my readers; it tells me what kind of posts they enjoy most and what hours they visit my page. I engage my audience with questions, photos, and links. If you'd like to LIKE my page: Facebook Page | Author Miranda Innaimo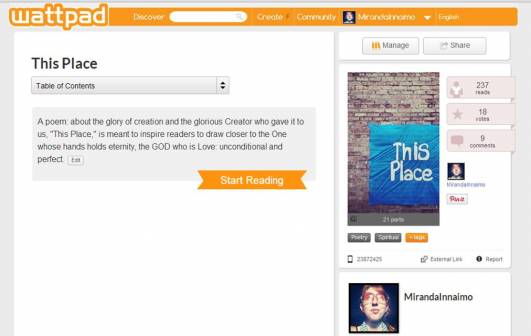 WATT PAD
This social community allow authors to post their works, and readers to comment on individual chapters. It is an engaging atmosphere, full of many genres and writers of unique attributes. You can find me http://www.wattpad.com/user/MirandaInnaimo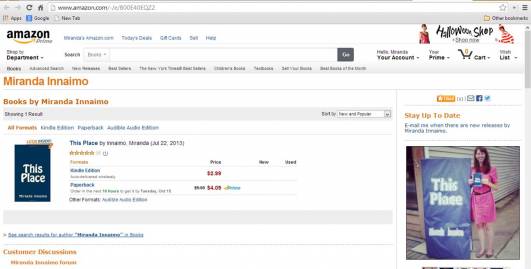 AMAZON
Maybe this one is the most obvious, but as an independent author, I find it very important to be on Amazon. This is where most of my sale happen; this is where the money is made. Currently, I have but one publication, called This Place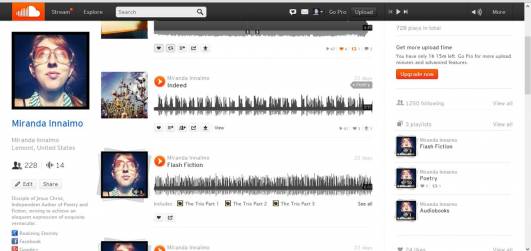 SOUNDCLOUD
This one may seem unusual for an indie author, but I tell you what; I've found many readers by posting recited works on Soundcloud. Give it a try; you'll be surprised. https://soundcloud.com/mirandainnaimo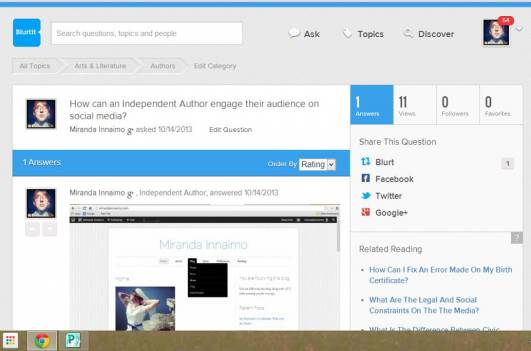 BLURTIT
This social community of question and answer opens the doors for indie authors to post anything and everything pertaining to their writing: you can ask questions about character, story structure, or even your WIP ideas. A fun, safe place to air out ideas.
There are many, many other ways, but these are just a few I use.