The beginner notes for Vanilla Twilight, to be played on the flute, can be found at FreeFluteNotes.blogspot.co.uk. This is not a printable image, so it needs to be played directly from the computer or mobile device.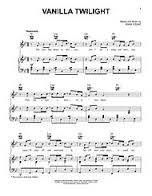 Fluter's Music also has a version of Vanilla Twilight for the flute. This website specializes in flute music, so many modern hits are available here.
These notes come complete with the words to the song, which makes it easier for players to keep up with the rhythm of the song. At times, the rhythm can be the most difficult element of learning a new song, so this really does come in handy.
Vanilla Twilight is performed by Owl City. If you are searching for another great Owl City song, Fireflies, to play on the flute, you can find it right here on Blurtit.
You can listen to the flute version of Vanilla Twilight right here: